Success Stories
USask's OER Program Expands from Adaptation into Ancillary Resources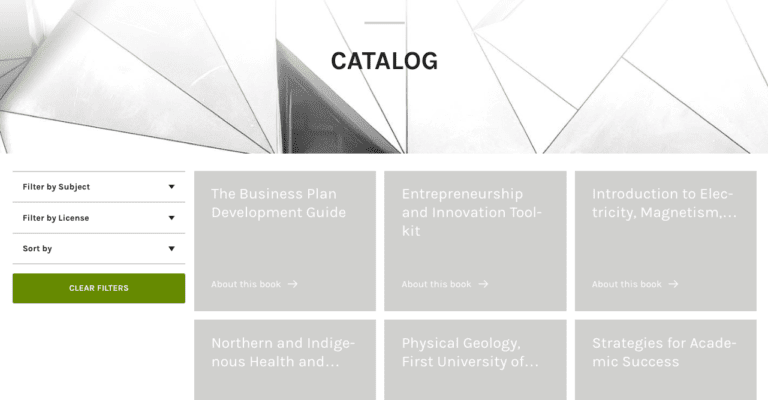 Staff at the Teaching and Learning Centre and Distance Education units at the University of Saskatchewan are steadily building their OER program. They started with the adoption and adaptation of openly licensed textbooks by faculty at the university and are now beginning to develop ancillary materials. To learn more about OER development at USask, we spoke with with Heather Ross, an educational developer (digital pedagogies) who consults with instructors on course development, syllabus creation, and digital literacy.
Heather has been closely involved in several recent OER projects. The inaugural OER project at USask involved content experts, instructional designers, and educational developers working together to produce four open textbook adaptations funded by the provincial government of Saskatchewan. Since then, the university has created or adapted a total of eight open textbooks, which are now available in the school's PressbooksEDU instance.
A few of these projects were built from resources that instructors had already created and were giving to their students in various different formats; provincial funding helped USask staff turn those resources into open textbooks.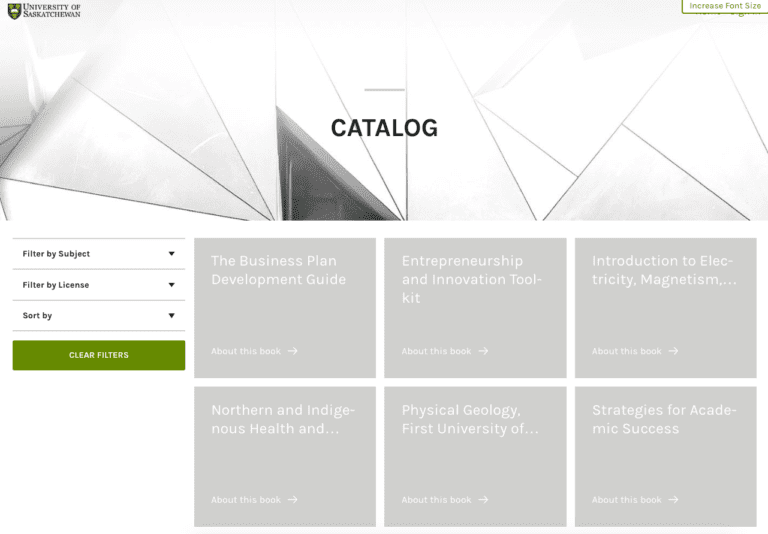 The first major adaptation was undertaken on behalf of a first-year course offered by the USask's Edwards School of Business. The program previously required students to purchase a traditionally-published textbook on the topic of college success, but faculty felt that the text wasn't meeting their learners' needs. Intrigued by the savings potential and pedagogical possibilities of openly licensed alternatives, the program identified a promising college success book included in the Open Textbook Library. Although the original text had been published by and for American institutions, it was released under a CC BY-NC-SA license, which allowed staff at the USask to edit and adapt the text for their context and publish their revised version as University Success, 2nd edition. This initial adaptation for business students was later modified again for use in the university's College of Arts and Science, a revision which was renamed Strategies for Academic Success.
Another successful project in the business school involved using the Pressbooks publishing platform to transform faculty-authored material that had previously been provided as course packs into fully online, publicly available open textbooks. Two completed texts written by business school professor Lee Swanson — Business Plan Development Guide and Entrepreneurship and Innovation Toolkit — have been published with Creative Commons licenses and are now listed in the USask's public Pressbooks catalog.
Also in the catalog is an adaptation of an OpenStax Physics textbook. In addition, the university is working with the Rebus Community on a human geography textbook and has an adaptation of a BCcampus geology text in the works.
The school has also partnered with BCcampus on a new soil science textbook project that will be collaboratively written by faculty authors from around the country.
Heather told us that she and her USask colleagues were particularly excited to have been able to work on complex multi-institutional collaborations like these.
As USask's OER efforts expanded, they gradually outgrew the open-source Pressbooks instance that they began self-hosting (which was run on a local server housed in a closet!)
"We didn't have the resources to continue hosting [an open-source network]," Heather says, "and it became clear that we should move to a hosted solution."
One benefit of moving to a Pressbooks-hosted network has been that they can focus on the OER content, rather than server and software updates for the platform it resides on.
Access to USask's PressbooksEDU network is available to any instructor at the university, and for some projects, faculty have added students to a book; this can be helpful for open pedagogy projects or for student workers.
Instructional designers in the Distance Education Unit, graduate students funded by open content grants, and USask instructors all have a hand in bringing new content into the university's open academic publishing platform.
During the past few years funding has been available for the creation and adaptation of open textbooks. To maximize the impact of current available funding, grants are typically  awarded to support instructors who want to create ancillary materials, such as test banks, that extend the value of existing open resources, rather than creating new texts from scratch.
As an example, the first-year psychology department will be moving some of its sections to using open textbooks next year, and a grant will support the creation of an accompanying test bank.
USask also previously funded the expansion of a test bank for a sessional instructor using an open sociology book.
"I'm actually trying to pitch adaptations of open or ancillary resource creation, by saying, 'Hey, we can help fund your grad students [laughs],'" Heather says.
Sessional instructors who are paid by the course have also expressed interest in grant-funded opportunities to create ancillaries.
Heather says she will be marketing such opportunities through conventional university channels: an updated open website for the university and an internal communications campaign. She'll also be driving the program through word of mouth.
"I plug open at every chance I get," Heather says, "It's just the conversations that I have with people."
Heather says USask has learned a lot since they first started working with OER.
Before a project receives funding, the OER program obtains sign-off on the project's adoption not just from the department head, but collectively from the department faculty, who have considerable influence on textbook adoption.
They're also learning to work with limited resources. USask does not have an official OER librarian or copy editor dedicated to OER publication. Open content is just one piece of Heather's role as an educational developer. And Saskatchewan does not benefit from an overarching provincial education consortium like BCcampus in British Columbia, eCampusOntario in Ontario, or Campus Manitoba in Manitoba.
For that reason, Heather says, she's grateful for the groundwork those organizations have laid in developing workflows for open textbooks.
"I'm so grateful for all the work that [BCcampus]'s done before us," Heather says. "I frequently state that I could not do my work if it wasn't for Amanda [Coolidge] and Mary [Burgess], and their whole team — what they've done before."
Heather says they'll pay the knowledge they develop at USask forward.
"We try and pass on our lessons, because there are other institutions that are in our situation in other provinces, and in our province," she says.
One of the things they learned was that the choice of platform is crucially important when it comes to creating open resources.
The first open textbook done at USask was by a professor who had written a commercial textbook and wanted to update it. The publisher wasn't interested in doing another edition, so they gave the copyright back to the professor so she could update it. The professor revised the text and consulted various university resources to make the actual book and obtain some late-stage funding. She ended up working with the media production unit on the format.
"[They] said, 'Yeah, we can turn this into an ebook for you — it'll be an iBook.' And I'm like, 'Well, that's problematic,'" Heather says. "Because you have to be able to work with that platform to do any adaptations. You have to have all those source files. And so we said, 'No more. That can't happen. You can't be doing this in iBooks.'"
USask initially decided to use Pressbooks for its open program after learning that BCcampus had long used it as the foundation of BCcampus OpenEd.
That, and the fact so many others in Canada were using Pressbooks for open textbooks, was important, Heather says. Their ability to try the open-source version of the tool for free was another factor.
"The multiple formats that [a book] can be exported is a good factor for me," Heather says. "It's an open source tool — you guys are always adding new features to it. And because it is open source, we're not adding more money into some company that is taking the profits and running, instead of putting it back into the community."
There are features Heather would still like to see improve.This includes better support for projects containing formulas, as well as a way to prominently link the open textbooks and catalog on Pressbooks to ancillary materials in a repository.
"We're looking at setting up an OER repository," Heather says. "And one of the big reasons for that is that we have no place to host the ancillary resources. And so, if we could find some way of better connecting our books to our ancillary resources using Pressbooks, that would be great."