As a rule, people in higher education love a good conference: it's where sharing, networking, friendship-building, and collaboration happen. Pressbooks was thrilled to attend and sponsor two in person events (plus two online) this fall.
After years of pandemic disruption and re-orientation, I can attest that in-person conferences have definitely returned in force, but virtual conferences have also been engaging and dynamic—at least in the open education and the digital learning innovation spaces.
Pressbooks attended the OE Global Conference (in person), OLC Accelerate (virtual and in-person), and the Open Education Conference (virtual). These events led to deep conversations with old friends and new acquaintances. Our team loved collaborating with partners and supporting customers as they shared important and thought-provoking work. We appreciated being able to listen and learn about what's commanding attention and generating excitement in our space.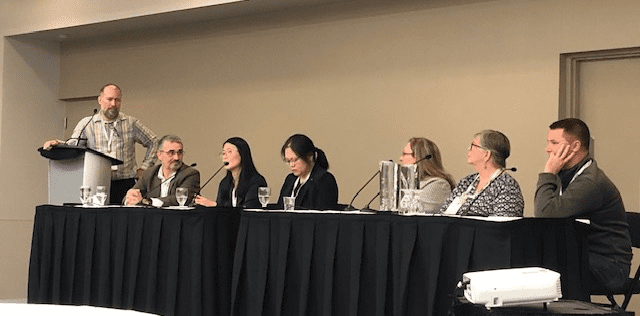 As our fall conference season wraps up, it leaves us reflecting on where we fit in the world. We are contemplating how we support educators, students, and organizations who are themselves figuring out where and how they fit in the rapidly changing landscape around higher education.
Here are three key takeaways:
Unavoidable tectonic shift: AI.
Throughout 2023, AI has undeniably been a central theme and pervasive topic of conversation in higher education and beyond. News flash: We haven't figured it all out yet. In sessions as presenters and over buffet lunches as fellow attendees, people spoke about the spectrum of reactions to AI that college campuses are struggling to address, from "holy terror" to "I have seen the face of God, and it is AI." Learning designers and technologists are addressing this full range of reaction (emphasis on the alarmists) as they strive to help their communities understand AI as a powerful tool that has a place in the education environment.
For me, the most compelling conversations were about how to use AI not as a replacement for human work, but as a collaborator with humans. I came away with a clearer vision for how AI can empower us to think more broadly, interrogate more critically, and iterate more productively to create quality work.
Take Clemson University's Yang Wu, an open resources librarian who helps develop the university's information literacy curriculum. Currently he is collaborating with a colleague on a new approach to the undergraduate information literacy course. This new version will begin by asking students to generate an article or book chapter using generative AI.
Students will learn principles of information literacy and iterative improvement by engaging with AI and AI-generated content to delve into questions of research, relevance, copyright, permissions, sources, attribution, bias, representation, and more. The result will be a product of project-based learning and open pedagogy, an entirely new book created and published by the students in the class. What a timely and productive way to learn!
Pressbooks is a tool for publishing and sharing. Now more than ever, it's also for teaching, learning, and student engagement.
At Pressbooks we've long thought of ourselves as a digital publishing software. And we are. But the most common use of Pressbooks is as a tool for teaching and learning; it's where educators create and iterate on learning materials and, by extension, the learning experience. Especially at the open education conferences, a lot of sessions featured people doing phenomenal work, with much of this work happening in Pressbooks. And that felt amazing.
In my opinion, the most interesting uses of Pressbooks are around how digital publishing has unique affordances to engage students in the learning experience. This can happen by weaving interactive learning activities and multimedia into the course materials to entice students to pay attention. More emphatically, it also happens when instructors are willing to invite students into the transformative process of (co)creating, adapting, and improving learning materials and experiences.
Higher ed is better together.
In person meetings are back, and we're better for it. Higher education thrives on the synergy of sitting at the same table, breaking bread together, comparing notes, celebrating successes, wrestling with messy problems, and sharing new models and approaches. Higher ed is a sprawling and sometimes dysfunctional family that, whatever its dysfunctions, remains deeply committed to the common values of learning, inquiry, opportunity, and, increasingly, equity.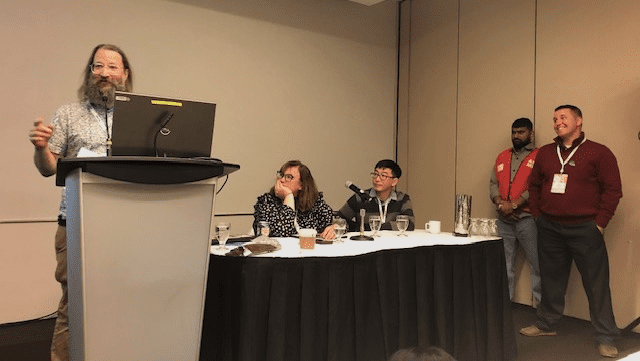 Like many of us learned through the pandemic, families can do a lot with Zoom. But that's just not the same as the way people feel when they come together in person to tap into each other's energy, broaden their vision, and get inspired.
For me personally and for Pressbooks, fall 2023 has delivered a tremendous conference season. We're here. We made it through. Yes, we're terrified like everyone else about the messiness we collectively find ourselves in, with so much flux in higher education and the world at large. But we're excited about what's possible today that simply wasn't possible five, three, even one year ago.
And we're excited to be part of an industry that is committed to making the world better, one learner and one learning experience at a time.