New Features
New! Control Your Book's Font Size, Margins, Running Heads & Feet
We're Changing How Theme Options Work in Pressbooks
Finally, more control of your PDF outputs.
There are a few things much harder than they should be in Pressbooks: changing the font size and page margins of your PDF, for instance. This is especially a problem when you are trying to control the length of your book, which can help you control print-on-demand costs (longer books cost more to manufacture).
We've been working hard to completely revamp how our themes work, to give you much more control. This should make the experience of formatting your book at Pressbooks better…way better.
Today we announce the rollout of some new theme control functionality. That's the good news. The bad news is that, for now, this new functionality is available only in the Clarke theme. We'll be rolling out the rest a little at a time in the coming weeks and months.
Advanced coders, don't worry–you can still edit and customize your CSS to your heart's content.
For everyone else, we're expanding your powers in Theme Options to make the changes you've asked us for.
Using the new theme options, you can now change your margins, running heads and feet, font size, line height and more simply by clicking a button in theme options. Here's a quick guide to using the new functionality.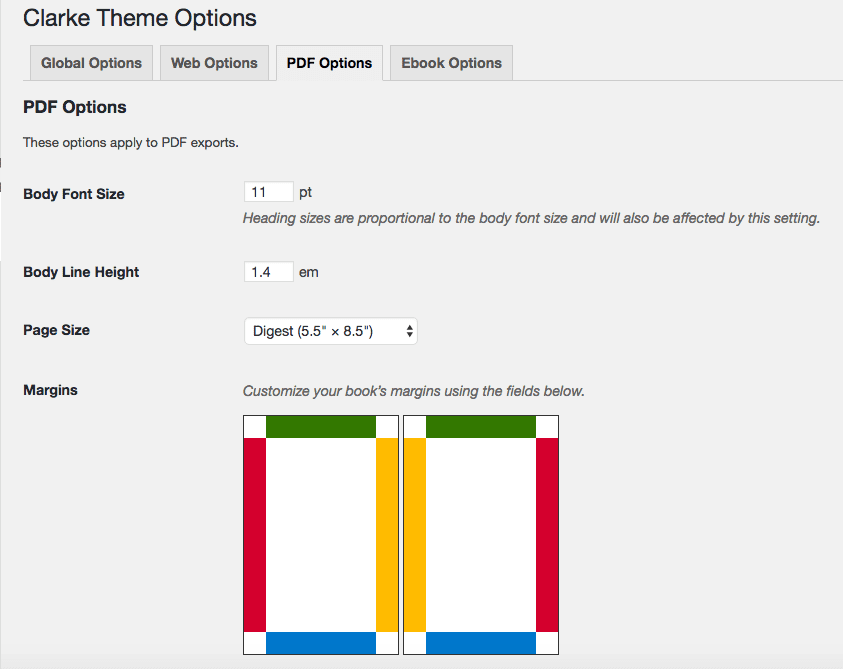 On another note, if you do edit your book's CSS, you'll be happy to hear we'll be making our themes consistent. Each theme will soon contain all the same elements, in the same order, as well as some documentation that will make it easier for you to understand what certain elements control.
If you've already customized your CSS, your book should not be affected.
Of course, with any new feature, there may be some kinks to work out. If you notice anything that seems buggy (or if you have questions), please let us know by sending an email to support@pressbooks.com