New Features
New Admin Menus for PressbooksEDU Network Managers
In response to feedback from network managers, we've made some improvements to the user interface for admins on Pressbooks networks.
We're adding two new tabs to the existing menu in the Pressbooks dashboard for network managers.
The first of these is a new "network admin" option. This takes network managers to the areas they'll need to go to administer their Pressbooks network. Hovering on this menu, they will see various options:
Dashboard: This takes network managers to the network admin dashboard.
Books: This menu takes the manager to a place where they can see a list of all books on the network and administer (view, add, delete, deactivate, or archive) books as they wish.
Users: From this menu, managers can see a list of all network users, and add, edit, or delete users.
The new top menu also includes a tab to administer the content and appearance of the network homepage. Hover on the menu for your university network. Visit website will take you to the home page of your network. The dashboard option allows you to get to several important menus:
Appearance, from which you can activate and/or customize your network's theme

Settings, which allows you to customize aspects of your network, for instance, the settings on Hypothes.is as it interacts with your book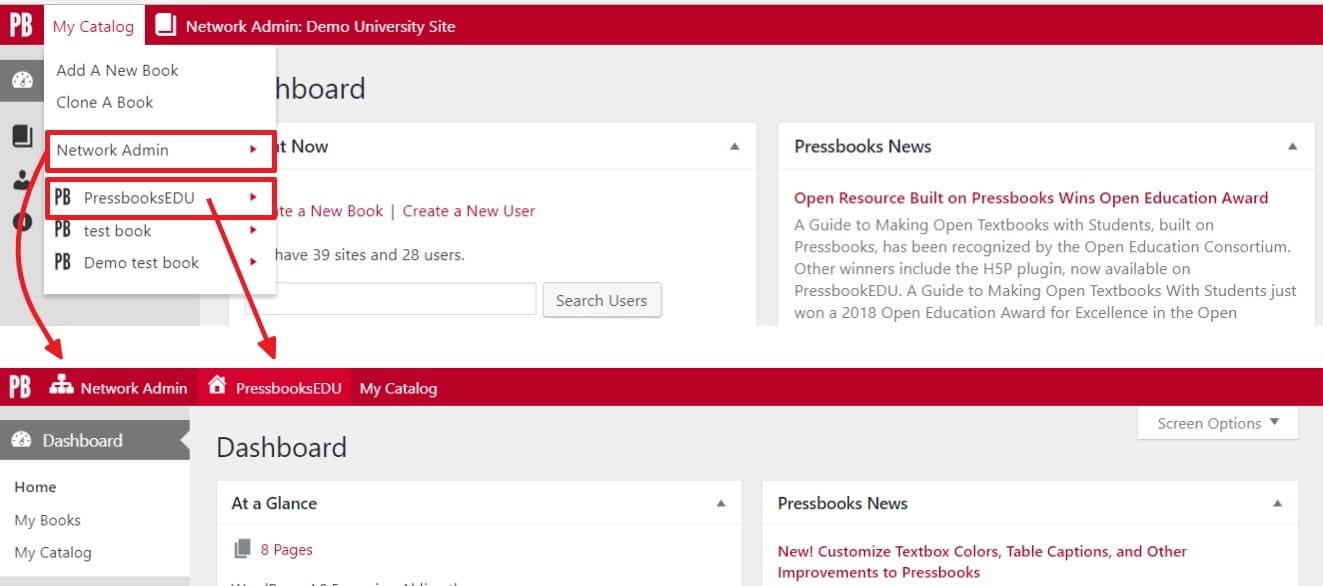 Network admins will still see the My Catalog menu. However, its options have changed. Previously this menu included links to the network admin dashboard and network homepage. Now that these areas are accessible from the other additional menus, they have been removed under My Catalog. Now, the My Catalog menu only includes items related to books.
Network Manager Guide
Our Network Manager Guide is (finally!) out! Please note that this is a basic v.1 version that will be updated, improved and incremented on an ongoing basis.
We hope these new options improve the user experience for network managers on PressbooksEDU networks. If you have feedback, or run into challenges, let us know.