New Features
Network Analytics Now Available in PressbooksEDU
Pressbooks is excited to unveil a new premium plugin on hosted PressbooksEDU client networks: network analytics!

Eager to know more about how faculty and students at your institution are using your PressbooksEDU network? This new plugin allows you to view helpful data about books and users, and includes new charts that provide you with visual references of the growth and change of activity on your network over time.

In addition, you'll be able to more easily find information on the books and users on your network with the newly available Books List and Users List.

Network analytics has three components: Stats, Books, and Users.

Stats
Each PressbooksEDU network now comes equipped with a new Stats page, viewable by its network managers.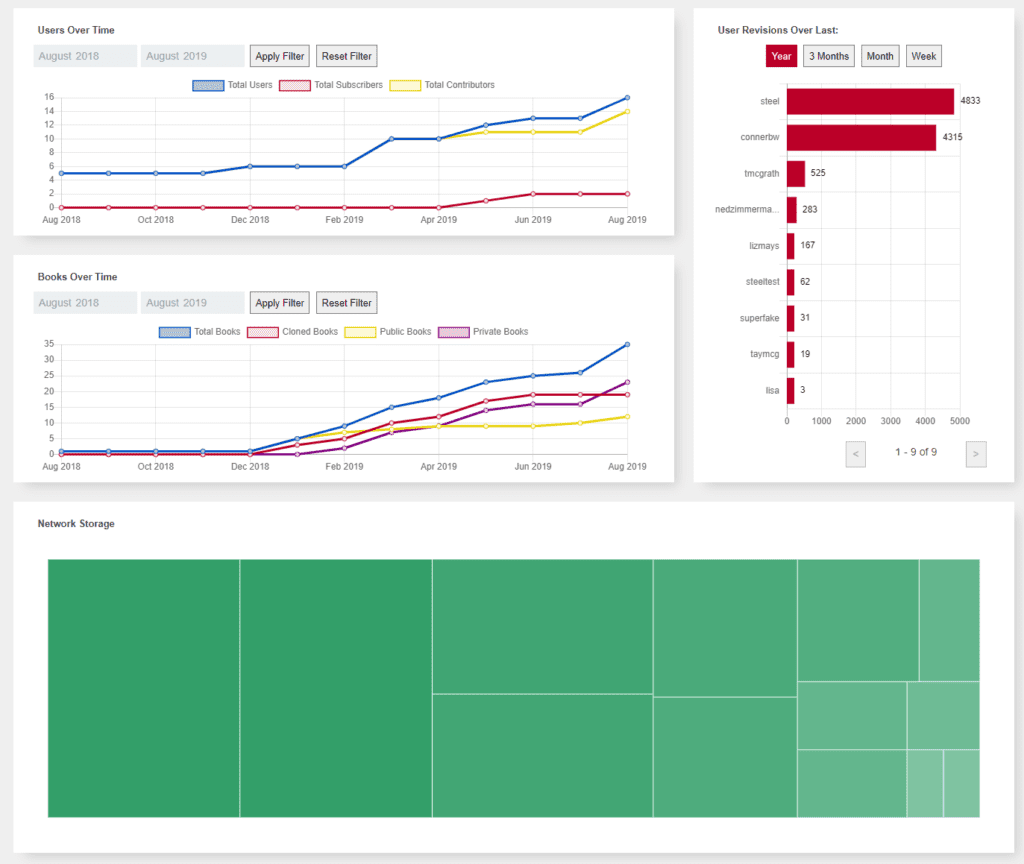 The Stats page provides you with visual, interactive charts that display data about the users and books on your network. Current charts include:
Number of users over time
Number of books over time
User revisions by year, 3 months, month, or week
Network storage
Every chart you see is interactive. Hover over a point on the line graphs to receive more specific data:

You can set specific date ranges, or select to view only certain lines of data at a time:

Find your network's most active users and click their bar to be taken directly to their User Info page.
We plan to continue developing this premium plugin to offer Pressbooks clients more helpful resources that can aid in the administration of an open educational resource program. Network managers of hosted PressbooksEDU networks can contact us at our premium support desk with feedback on the types of data that would be helpful.

For more information on your network's Stats page, see our Network Manager's Guide.

Books
We've enhanced the Books list to offer network managers more tools and insight into their network's catalog.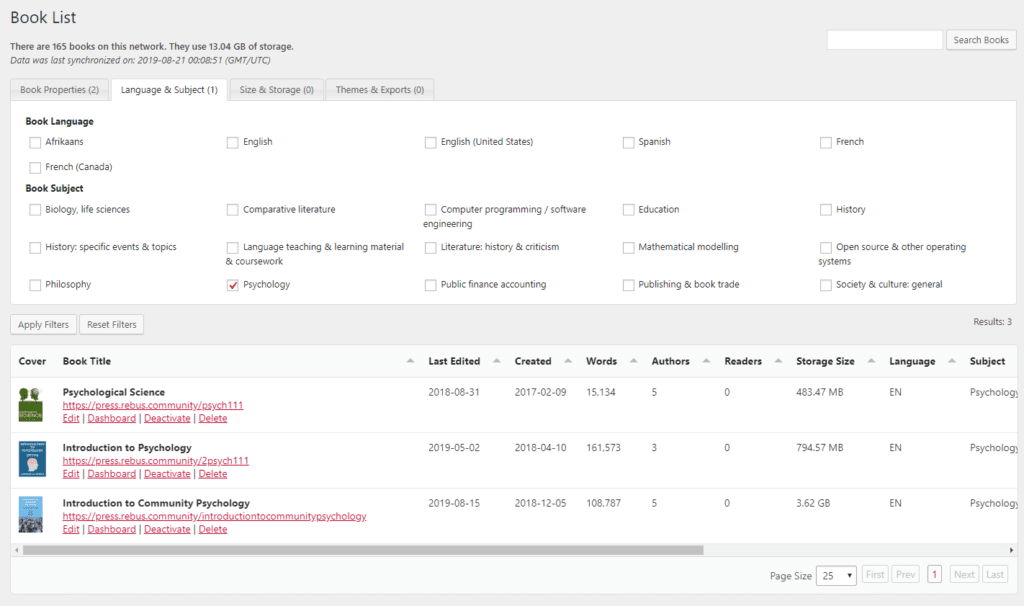 The new Books list comes equipped with a wide array of filters and sorting capabilities that allow you to easily discover more information about the books on your network.

Every book in the list now displays the following points of data clearly:
Cover image
Title
Lasted edited date
Creation date
Word count
Author count
Reader (subscriber) count
Storage size
Language
Subject
Theme
License
Global privacy status
Catalog status
Filter results by a number of different criteria simultaneously, including details like privacy status, license, language, or subject.

To read more about the new Books page, view its chapter in our Network Manager's Guide.

Users
Similar to the new Books list, we've also enhanced the Users list to show you more information about how people at your institution are using your PressbooksEDU network.

The following information is available for every user in the list:
Username
Name (if available)
Registration date
Last login date
Number of books
User roles
This list is filterable as well, with filters that include login date, registration date, and user role.

Find out more about the User List in our Network Manager's Guide.

Excited to try it out?
Network managers can access these new pages from the Network Admin dashboard. Click Stats in the left sidebar menu to be taken to the Stats page, or hover over Stats to see the options for the User list and Book list. 

Just a heads up!
We're not quite done with this project. You'll see more enhancements made in the weeks to come.

Wondering how network analytics can benefit your program?
Here's just a few of the reasons we think the new network analytics premium plugin can help your institution's OER program thrive:
You can see for yourself and show others how use of your Pressbooks network for OER creation has grown over time
You can quickly and easily find all the projects actively being revised on your network so that you know where resources should be directed
You can find how many students are using each textbook on your network as a subscriber via LTI connection, and how many subscribers you have total on your network
You can perform bulk actions that dramatically decrease the amount of time you have to spend performing administrative tasks on your network
If you're wondering if PressbooksEDU is right for your OER program, please contact us! We're happy to answer your questions or schedule a demo that includes an up-close look at this new premium plugin. Send us an email at sales@pressbooks.com