Inside Pressbooks
We have a new look!
With help from our friends at Plank Design, we've updated our website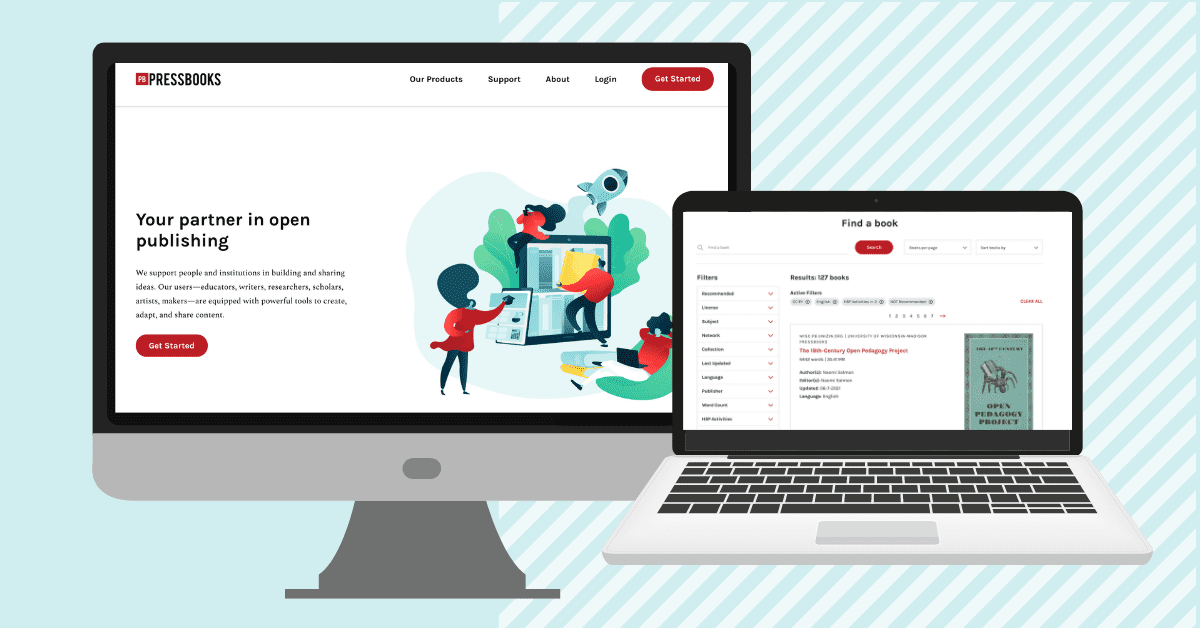 Pressbooks is growing! In the last year, we've doubled in size (though we're still only 14 people). As we grow, we want to present a fresh look that clearly defines our products and services but also reflects our goals and values. With the help of Plank Design, we've created a website that shows off our humanity alongside the practical solutions we offer the creators of open educational resources (OER).
One of the most important goals for this website redesign was to show visitors what we do and who we do it for. We wanted our three educational products and services—Pressbooks Directory, Pressbooks Create, and Pressbooks Results for LMS—to be clearly described, helping our partnering institutions find the right open publishing technical solution for their growing OER programs. We're pretty pleased with the new "Our Products" page that provides concise product descriptions and multiple opportunities to learn more.
Our new self-serve support page
The support page was another very important space to develop. It used to be a giant wall of text that outlined our policies and resources. Now, it's a welcoming space for Pressbooks users, where they can discover our resources and learn more about the support offerings that are available to them. Thanks to Amy Song, Pressbooks customer success manager, for being so instrumental in designing this space. Amy knows our users very well and that knowledge is a big part of what makes the new support page so valuable.
Alongside the website refresh, we also worked on styling Pressbooks Directory. The Directory's new look does two things: It highlights the amazing open publishing work of our users and clarifies the information presented in search results. If you haven't already had a chance to browse our directory of over 2,400 free books, take a minute to check it out.
Our partners in design
Working on this website redesign was a terrific chance for us to reflect on our values and our goals. And thanks to the helpful and expert eye of the folks at Plank Design, we have a clear, welcoming website that shows off who we are as a company. It was an absolute pleasure working with the design team from Plank, including Kayla Keizer, Veronique Pelletier, and Dave Kellan. We were also joined by graphic designer, Leah Concepcion-Vanderbyl.
About the project, Kayla writes:
Pressbooks is a long-standing partner of ours and we were super excited to go on this journey with them to update their site and make it more flexible as they are growing. When we first developed the site, WordPress blocks were in their infancy. Now we were able to give them a crisp, fresh design with all the flexibility of blocks and block patterns. It was a great project for us not only because we believe in the product but also because it challenged us to use Gutenberg blocks as much as possible.
Here, Kayla highlights the challenge we presented for Plank. We are a growing company that needs our image to grow with us. Our team is growing in numbers, but Pressbooks is also maturing into a leader in open publishing. We want to make sure we present ourselves as humans who are here to help open advocates and practitioners, learning alongside them and developing products to solve real problems.
---
This post has been updated to reflect a name change with the Pressbooks product Pressbooks Create (previously known as Pressbooks Authoring & Editing platform). Learn more about our products.