Pressbooks Directory has been going through some exciting changes. We've recently updated the design and added some new features to make it easier to use. We've also introduced human-curated collections. These are groups of open educational resources (OER) centered around a theme—it could be a subject like healthcare or language learning, or a more general theme like open education. The purpose of these collections is to showcase the best of OER. These are resources that we think are really great and may be helpful to anyone interested in the theme. Pressbooks Directory is constantly growing, and it can be difficult to know where to begin, especially if you're new to OER. Collections provide suggestions right from the start.
What are collections for?
In addition to highlighting the best of OER, collections provide some great examples to follow. You might consider using them as inspiration for creating your own open textbook project. When advocating for investment in OER and open education, you could use these resources as examples of OER's high quality and the different approaches that authors can take, from straightforward textbooks to interactive learning tools with multimedia and built-in student feedback and assessment.
Where are these collections?
You can find a few featured collections right near the top of Pressbooks Directory.
There are even more collections listed in the search filters on the left. The contents of these collections will appear in the search results area.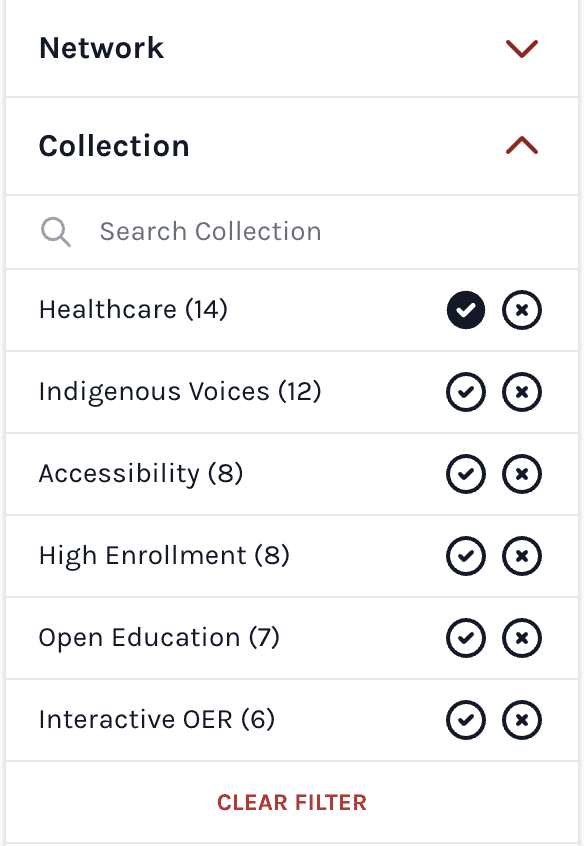 How are collections made?
Collections are curated by the Pressbooks librarian (that's me) together with input from the OER community. The team at Pressbooks feels strongly about humanity underpinning everything we do, so we've opted not to assemble collections through an automated system or simply group books by metadata. Instead, we go through books one by one and give them a proper evaluation. This allows us to maintain a higher standard of quality and make connections between books that might otherwise be missed. Topics are chosen based on general demand, feedback from the OER community, and the resources available in the Directory.
These are intended to be living collections—that is, they will grow and change over time. Collections start small, then books are added or removed as new books become available. The collections emphasize quality over quantity. While we may have many books covering a given subject, we'll choose just a handful that we think are noteworthy in some way. We'll look at things like the quality of writing/editing, topics covered, formatting/presentation, interactive elements and videos, and other factors. We'll also try not to have too much overlap within one collection (we have many wonderful Intro to Psychology textbooks, but how many does one collection need?). We generally select original books, rather than duplicates, unless the originals are outdated or unavailable. If a derivative work is heavily modified—for instance, with new content and H5P activities—we may opt for that version instead of the original. After all, one of the great strengths of OER is the ability to build upon one another's work.
What collections are available?
These are the collections we've put together so far:
We're always thinking about new collections and listening to feedback from the community.
We are fortunate to have such a wealth of OER to choose from. Thanks to the wonderful OER community for creating these resources and fostering such a friendly, collaborative culture. These amazing leaders are doing incredible work making education more accessible, and we're excited to have another way to showcase some of that hard work.
If you are interested in having your OER featured in a future collection, make sure your metadata is complete. Fields like subject and long/short descriptions will help us find it when the time comes. If you think an important resource is missing from a collection, send us a Tweet. We always enjoy engaging with the community and learning about new books. (Introduction to Infection Prevention and Control Practices for the Interprofessional Learner was added to the Healthcare collection after Michelle Hughes suggested it on Twitter.)
To keep up with the latest about collections and the Directory, be sure to follow us on Twitter.
---
Update: The new Collections Hub is a great way to stay up-to-date with curated collections. Share a link to this space with your OER-curious friends. It's a great way to show off excellence in open education.