Whether you're meeting someone for the first time, interviewing for a position, or starting a new job, first impressions are vital to beginning a long and happy relationship. Not only is it important to give a good first impression on your first day of work, the first impression you receive will have a lasting impact on your work experience. Employers often fail to recognize the importance of a successful onboarding experience from the new employee's perspective. We tend to forget that the probationary period goes both ways. Employers want to have assurance that they've hired the right candidate, and employees want assurance that they've joined the right company.
I've been in the workforce for over 20 years, and have had onboarding experiences ranging from a 15-minute tour that consists of "Here is your desk. Here are your colleagues. If you need anything else, don't hesitate to reach out," to a three-week full-time, out-of-office training where I felt completely isolated from my actual job, colleagues, and even my desk. The 15-minute experience made me feel unappreciated and alone. I felt like another machine that was brought on to perform one function, and it ate away at my excitement. The three-week experience also had its down sides. I appreciated being valuable enough to receive extensive training, but at the end of the three weeks when I started my actual job, I felt like a total stranger in the office. I felt like a machine, yet again.
At Pressbooks, we found the sweet spot between the two extremes. A successful onboarding should be the perfect balance between learning how to use all the tools and building interpersonal relationships.
So you've accepted a job offer from Pressbooks. Now what?
I am a firm believer in beginning the onboarding process at the moment I send an offer letter. Every bit of communication a new employee receives gives them clues about our company culture. If you were to accept my offer, you would receive a welcome email a few days before your starting date. This email would give you an idea of what to expect from your first two weeks and will hopefully ease the anxieties that naturally occur when facing the unknown. In their post, "Ongoing Onboarding: How to Make the First Six Months Count," Glassdoor calls this the pre-onboarding period, and highlights the importance of it for maintaining talent in a highly competitive market.
When your start date finally arrives, it would proceed like this:
A walkthrough of your schedule for your first two weeks
A welcome meeting with the whole Pressbooks team, during which we would introduce ourselves and our roles
An introduction to the tools of communication and project management
Team lunch, where you would see our true colors—strong food opinions, joyful stories of our weekend activities, and introductions to any pets hanging around.
A light afternoon, during which you would be invited to set up your work environment and do some introductory reading.
From day 2 to week 2
On your second day, you'd be introduced to your onboarding buddy, an idea I got from a remote onboarding best practices webinar hosted by VanHack Technologies. Because we want to create strong ties across departments, your onboarding buddy would be someone who is not in your immediate business unit. They would be someone you'd go grab coffee with if we were all in the office together, but since we're mostly remote at the moment you would get to know your buddy in casual virtual chats. You might discuss your pets or you might discuss Pressbooks' Slack etiquette. This is your time to ask one of your peers questions in an unstructured environment.
The rest of your first two weeks with Pressbooks would be filled with one-on-one meetings with each business unit lead. They would walk you through what they do, giving you a greater understanding of the departments' roles and responsibilities.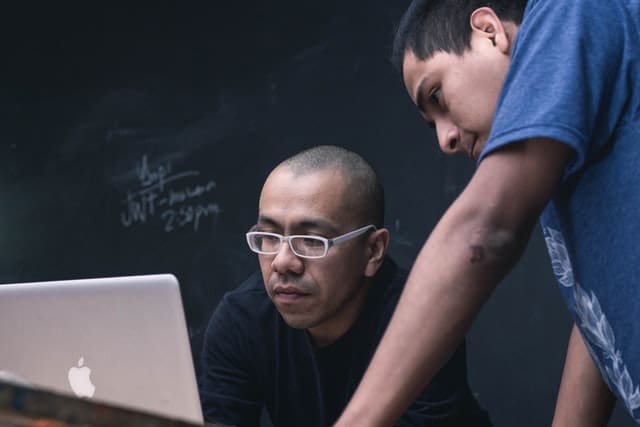 Between orientation meetings, you would participate in the Pressbooks Gauntlet, a series of exercises that help you understand how Pressbooks as a product functions. And when you aren't in meetings or working on your Gauntlet exercises, you would watch recordings of interviews we did with key stakeholders, and presentations of our competitor analysis, SWOT analysis, sales demonstrations, and user training. Whatever your role is at Pressbooks, whether you design infrastructure or sell our product, your onboarding experience would leave you with a holistic view of our company and all its quirks and complexities.
After the first two weeks, we wouldn't leave you hanging. Your team lead would slowly introduce projects for you to work on that ask you to apply your technical knowledge and invite you to contribute early. As you take on more responsibilities, we would remain by your side, celebrating your successes and helping you tackle your challenges. I meet with all new employees at the 30 day, 60 day, and 90 day milestones to provide feedback and assess any further needs the new employee has. This approach strengthens the relationship between newer employees and the leadership team.
Tying it all together
At Pressbooks, we are mindful of the other aspects of working in a diverse team that is truly equitable and caring. We don't want to run the risk of a new employee thinking we are only concerned with productivity, so we take steps to create a supportive, encouraging, and safe work environment. To that end, everyone on our team takes security awareness training provided by the United Nations, diversity, equity, and inclusion training provided by Feminuity, and an implicit bias test provided by Project Implicit of Harvard University.
I know this reads like a lot. But it feels less overwhelming after the first couple of days, and ultimately the new employee is more prepared to be an active and enthusiastic team member. One of my colleagues once said to me, "The onboarding process is so well designed, we should package and sell this to other companies." It was perhaps the best compliment I could have hoped for! As I watch new employees start contributing to their department, I see how happy they are to be contributing so quickly. And as weeks turn into months, employees remain engaged, motivated, and confident in their decision to work with us. This radiant and infectious enthusiasm refreshes the motivations of other team members, creating a healthy happy organization.
If you're interested in joining this team of keeners, please check out our current job posts and keep an eye out for new positions by following us on Twitter and LinkedIn.