The Great Resignation has been top of mind at workplaces lately. In efforts to keep their valued employees, improve employee happiness, and attract new talent, many companies are trying to shift their work culture, while others are improving their already beneficial practices. According to a Deloitte study, 88% of employees believe a distinct corporate culture is important to a business's success. It should also come as no surprise that happy, healthy employees tend to be engaged, productive employees.
Pressbooks strives to be a humanity-first company, encouraging our colleagues to take better care of themselves, which in turn enables them to do their best work. I decided to put our culture to the test by applying for Great Place to Work® certification. The process is quite simple: Great Place to Work® sends a questionnaire to your employees (responses are 100% anonymous), and the HR representative of your company receives a few documents to fill out to showcase the benefits packages, vacation time, turnover rate, and other HR practices. To qualify as a Great Place to Work®, the Trust Index© Score threshold is 65%. We scored 93%. I want to reflect on how we got here so we can keep pushing ourselves forward and encourage other organizations to put themselves to the test.
Hiring
I am a firm believer that great culture starts with great people, which is why our practices went through a significant transformation over the last few years. If you were to interview with Pressbooks, you would have:
a short, standard screening call;
a full interview with the department head and your peers; and
a culture interview with your peers from other departments (folks with whom you would not necessarily work closely).
This is becoming a fairly standard practice these days. But the way we may differ from most companies is that we will be transparent about our process and keep you updated throughout. How many people we are speaking to during each stage and what kinds of questions you should expect from the next round of interviews are no secret. We also engage our entire team in the process: the team knows who the candidates are, and we ask for their feedback and take it into consideration. When you receive an offer letter from us, we know that you will be a great addition to our team and that we are a good fit for you.
Onboarding
Once you get started, you will have all the support you need and have a very clear idea of what success looks like: you will receive a 30-60-90 day roadmap to ensure you understand what you should focus on for your first three months. You will also receive a success matrix that explains line item by line item the details of your day-to-day job and how quickly (or slowly) you are expected to become fully autonomous in delivering those jobs. You may find more information on our onboarding practices in a previous blog post: How to Onboard Humans.
Setting the tone and staying sharp
It's also important to set the tone of the workplace and make sure every team member has the skills they need to be their best self. Every Pressbooks employee receives training on Diversity, Equity and Inclusion so we can become a more inclusive team, and Developing Cross-Cultural Intelligence to understand how folks from different cultures behave in the workplace and to be better colleagues to each other.
It is the company's responsibility to ensure folks continue to invest in themselves and advance their skills. We provide a Udemy Business account to all our employees and do our best to encourage folks to pursue that training during business hours. I must admit though, it's hard to consistently succeed in this as an ambitious team with so much to do.
Feedback
In our efforts to help folks get better at what they do, we have yearly 360-degree performance evaluations and biannual follow-ups to those to ensure folks are on track with the things they commit to working on. But of course, it's not just the employees who go through evaluations.
Every six months, I hold stay interviews with everyone and ask them the same questions I would ask at an exit interview. I take that feedback and commit to making improvements. Our work-life balance efforts, including the 4DWW, are a result of the feedback I've heard. Another thing I kept hearing is how we are all buried in long and frequent meetings. We've improved on these considerably as well. To find out more about these improvements, check out another blog post: Doing more with less: How Pressbooks stays productive with a four-day work week.
Working remotely and staying productive
These bi-annual stay interviews are important, but we also need more frequent discussions with our team members. Monthly all-hands meetings are a great place to facilitate these conversations.
Our all-hands presentation has three components to it:
What did we all work on during the past month, and what problems did we encounter?
Company-wide retrospective for the past month:

What went well?
What did not go well?
What should we start/stop/keep doing?

Results of our weekly Burnout and Work Engagement survey we receive via Yerbo prompts on Slack (seen below)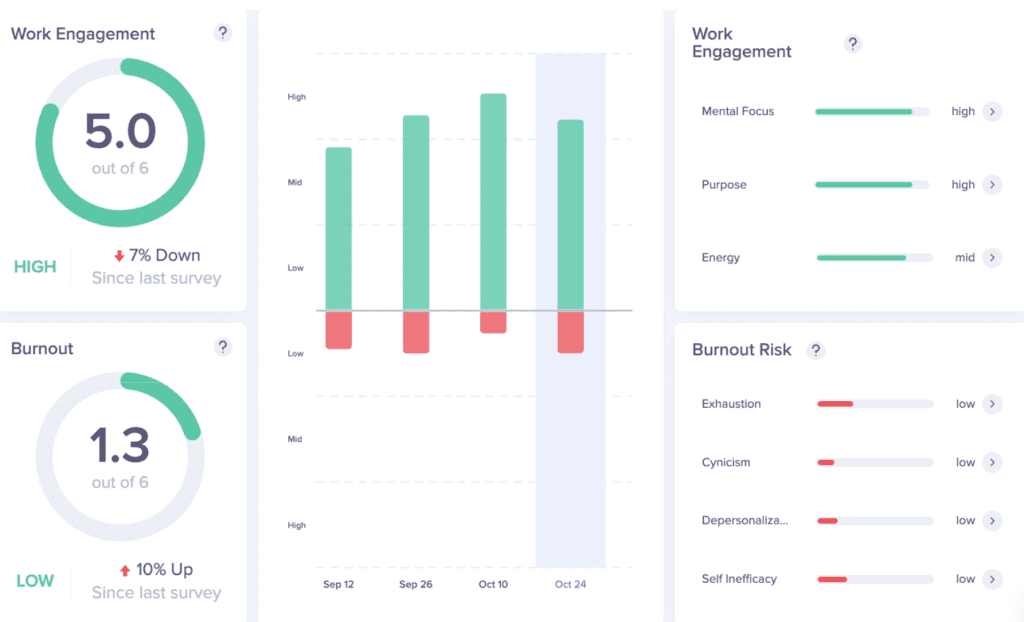 If we see the work engagement go down drastically and/or burnout risk go up significantly for the entire team, we will take whatever steps are necessary to address it until the numbers reach normal levels. Mental health is health, and we as managers have a great responsibility toward our colleagues.
If you are an employee with one or more managers above you, it is sometimes hard to see the big picture, understand the company's direction, or not feel like you're in a silo. To prevent this, we also work hard at practicing Objectives and Key Results (OKRs), a popular management framework that helps companies set shared goals and define key milestones to get to those goals. A common mistake in practicing OKRs is not breaking the silos between departments and having each department set its own goals without keeping the main objective in mind. We involve every employee in our OKR process by having the team discuss it with their department head, who will then bring it to upper management before the OKR process starts for that quarter. We also encourage different department heads to join other departments' OKR meetings so that they can be engaged and involved in the process and outcomes. The entire process is transparent, and we present OKRs for the whole company so that everyone is informed and understands the company's direction.
Socializing
As a remote team, we don't always have a chance to socialize and team build the way we would in person. That's why we have a "social meeting" with our friends at our sister organization, Rebus Foundation, once a month. We play games together, varying from musical bingo to personalized trivia (questions about each other and our families or countries of origin). Our Slack has several fun channels, too, where we share our passions for things like food, music, and family.
I am not saying we work hard and play harder. Instead, we work well and rest well. We are officially a four-day workweek company and have four weeks of vacation plus a week off during the holiday season across the board. We don't put a limit on the number of sick days.
Reading our results
Our efforts to make Pressbooks a great place to work are a work in progress and always will be, and yet it is gratifying to read our employee testimonials:
"All Pressbooks members are very helpful and eager to assist when I have questions. They [leadership] have given me a great amount of autonomy. Everyone seems pretty easygoing. You can always express your ideas and things might actually change. Most importantly, everyone is welcoming and nice!"
"Since joining Pressbooks not long ago, I have been entrusted with a high level of responsibility. It's a team composed of like-minded people who are kind and hardworking. Everyone at Pressbooks are genuinely caring and understanding, and it has made my experience ideal."
The breakdown of the Trust Index© also showcases our achievements in making a positive company culture.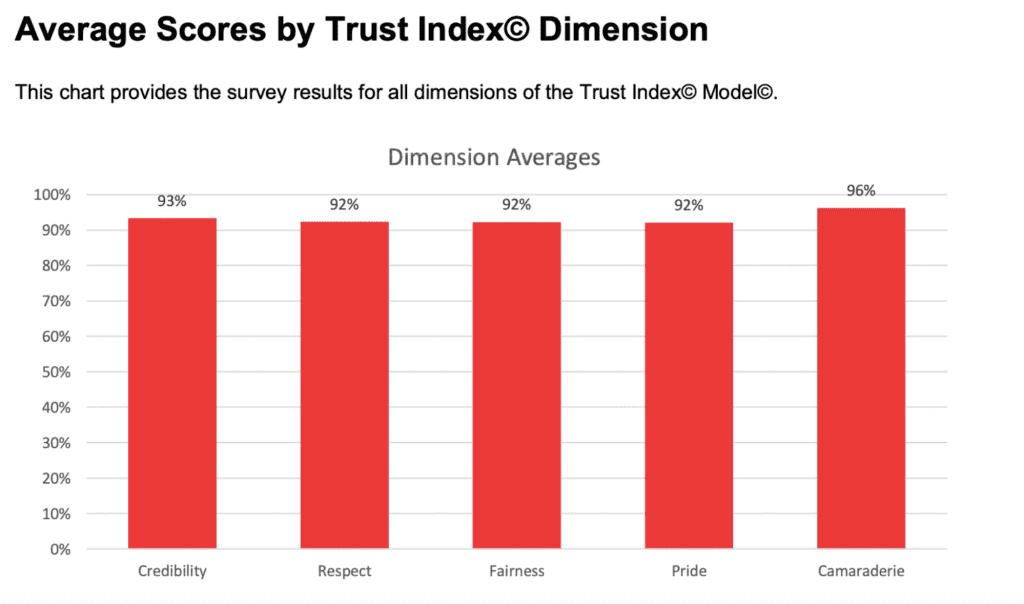 Why this is important
At Pressbooks, we believe humans come first. If you have an unwell family member, the first thing we will tell you is to go and take care of them. We expect you to unplug from work completely during weekends and vacations. We ask folks to uninstall Slack from their phones so they are not inclined to look at messages outside of work hours. And all of this is not just because we have a human-first approach but also because we believe the healthier and happier the team, the more productive employees will be and will stay at Pressbooks for years to come, contributing to long-term team productivity. From this perspective, making Pressbooks a Great Place to Work® (and keeping it that way) contributes to employee retention and better business outcomes.
Our methods may not work universally for all businesses. We are a small, mission-driven company that can maintain this kind of culture because we have fostered an ambitious team that is eager to come to work and move things forward. That said, whatever the type or size of your business, a better company culture will benefit the entire organization. Try putting your own company to the test and see what changes you can make to improve your company culture. It won't just make your employees happier; it can make your business more competitive and better able to attract top talent.
If you had asked an employee five years ago what they thought a great place to work was, you would have gotten a different answer than what you would get today. Workplaces change, employee expectations change, and businesses that meet the challenge will ultimately reap the benefits.